Luca Giordano Band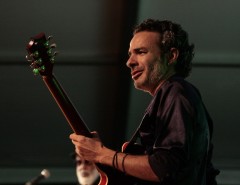 Когда: 31 января 2020
Где: B.B.King
Адрес: Москва, ул. Садовая-Самотечная, д. 4
Телефон: 8 (495) 220-82-06
Вход 1000-1500 рублей
"Blending blues, jazz and funk in a very soulful manner, Giordano shows us he is one of the premier bluesmen from the European continent and that he can hang with the best of them in the blues world.
His songwriting shows maturity and complexity. His musicianship is faultless and the band is up to his challenge as they, too, deliver each song with gusto and intense feeling.
Highly recommended to blues lovers who want to hear what the Blues is all about and what the Blues can be."
STEVE JONES - CROSSROAD BLUES SOCIETY ILLINOIS USA"Luca Giordano is one of Europe's most talented and versatile guitar players. The way he bends the strings reminds me of Jimmy Johnson. And believe me .... players who make me think of Jimmy Johnson are very rare ... "
FRANKY BRUNEEL - EDITOR BACK TO THE ROOTS BLUES MAGAZINE BELGIUM
    VIDEOS: Live at San Javier Jazz Festival - Buzz Me https://www.youtube.com/watch?v=8GxgCbvh7gM Live at Bubano Blues https://www.youtube.com/watch?v=cCtb7GANQx0 Live at San Javier Jazz Festival - Right Place Wrong Time https://www.youtube.com/watch?v=zI92wIwKZFE
Live in Porretta with Horns
https://www.youtube.com/watch?v=GVZrk5kswSc
Live Afternoon in Music Tv https://www.youtube.com/watch?v=mMce47pRzGs
Live from Lithuania
http://www.youtube.com/watch?v=DdopJ0qKJxs
Live at Bitonto Blues Fest https://www.youtube.com/watch?v=xwh2l8D2VcU Clip "Night Life" TV Studio https://www.youtube.com/watch?v=J8QqWzXcVOs&t=1s
Official WebSite
www.lucagiordanoband.com LUCA GIORDANO  -  BIOGRAPHY
Guitarist, bandleader, singer, and songwriter Luca Giordano has emerged as one of the outstanding talents on the European Blues scene, performing both his own music and backing many of the music's greatest performers.
Born in Italy in 1980, Luca moved to Chicago at the young age of 25 and gained valuable experience working with established Chicago Blues artists like Sharon Lewis, Willie "Big Eye" Smith, Les Getrex, JW Williams,
James Wheeler & the Rosa's Lounge All-Stars (including their 2008 appearance at the prestigious Chicago Blues Festival), eventually joining the late Eric "Guitar" Davis and his band the Troublemakers for tours of Illinois, Ohio,
Missouri, Wisconsin, and the 2011 Chicago Blues Festival.
After returning to Europe Luca released two solo CDs (My Kind Of Blues featuring Chris Cain, Bob Stroger, and Sax Gordon for Audacia Records & Off The Grid for GG Records) and he collaborated with Spanish
singer/showman/harp-player Quique Gomez for GG Records' Dead Mama Blues and Chicago 3011 Sessions (recorded in Chicago in 2011) that also features American Blues stars Bob Stroger, Billy Branch, Jimmy Burns
and Eddie C. Campbell.
In the years following the Luca Giordano Band established itself as one of the go-to bands for American Blues artists looking for professional backing in Europe. Successful tours and growing recognition attest to the quality of their
work with respected artists such as Sugaray Rayford, John Primer, Bob Stroger, Nora Jean Bruso, Kenny "Blues Boss" Wayne, Willie "Big Eye" Smith, Jimmy Burns, Toni Lynn Washington, Chris Cain, Carlos Johnson, Billy Branch,
Eric "Guitar" Davis, and Sax Gordon to name a few. With his own show or backing these great artists Luca has brought his unique and soulful sound to clubs and festivals in Italy, Switzerland, Germany, France, Belgium, Luxembourg,
the Netherlands, Spain, Portugal, Austria, Hungary, Romania, the Czech Republic, Lithuania, and lately he's gained many fans from his performances in Brazil and Chile.
In recent years Luca has also become a mainstay of Blues Prophet Mighty Mo Rodgers' touring band and is featured on Mo's new collaboration Griot Blues with African Griot/Musician Baba Sissoko (2017 - One Root Music) while
continuing to tour worldwide with both his own band and the best performers on today's Blues scene.  
LINE UP:
Luca Giordano - guitar, vocals
Fabrizio Ginoble - piano, organ
Walter Cerasani - bass , vocals
Lorenzo Poliandri - drums
Horns: 
Alessandro Di Bonaventura - trumpet
Luca Di Giammarco - sax
Some of the Festivals he played:
CHICAGO BLUES FESTIVAL 2008/2011 with James Wheeler and Eric Guitar Davis
VIRGINIA BEACH BLUES FEST 2010 with Willie Big Eyes Smith and Bob Stroger
TRASIMENO BLUES FESTIVAL 2008/2011 with JW Williams and Jimmy Burns
SAN JAVIER JAZZ FEST SPAIN AVIGNON BLUES FEST FRANCE DELTA BLUES MISSISSIPPI BRAZIL BORDEAUX BLUES FEST FRANCE CAZORLA BLUES SPAIN FOCSANI BLUES FEST ROMANIA
BEJAR BLUES  with Jimmy Burns
SORIA ENCLAVE DE AGUA with Jimmy Burns
GOODMUSICCLUB FEST LITHUANIA with JW Williams
BAIA DOMIZIA BLUES FEST with Katherine Davis and Jimmy Burns
IDROSCALO BLUES with Eric Guitar Davis
LANCIANO BLUES FEST with Katherine Davis
BLUES RIVER FEST with Katherine Davis
GREEN HILLS IN BLUES with Jimmy Burns
POGGIO PICENZE IN BLUES with Sax Gordon, Sharon Lewis and Jimmy Burns
CULTURA INQUIETA with Jimmy Burns
VILLA CELIMONTANA A DREAM IN BLUES with JW Williams
Clubs:
BEALE ON BROADWAY - Saint Louis
ROSA'S LOUNGE - Chicago
BUDDY GUY'S LEGEND - Chicago
KINGSTONMINES - Chicago
BLUES on Halsted - Chicago
BLUE CHICAGO - Chicago
GREEN DOLPHIN - Chicago
FATFISH BLUES BAR - Cleveland
BB's LAWNSIDE BBQ - Kansas City
BATARD MUSIC AND WINE - San Prospero Mo
BIG MAMA - Rome
BLOOM - Mezzago Mi
SALA CLAMORES - Madrid
EL MOE - Madrid
NAUTILUS - Kaunas Lithuania
PASO MUSIC - Bellinzona Switzerland
Сбор гостей - в 20:00 Начало концерта - в 20:30 Бронь столиков по тел: 8 (495) 220-82-06
После концерта Luca Giordano Band , который начнется в 20-00, в 23-00 на сцену клуба выйдет Дмитрий Новокольский
Дмитрий Новокольский — певец, гитарист, виртуозно владеет губной гармоникой, один из пионеров кантри-блюза в нашей стране. На данный момент он один из самых востребованных и профессиональных музыкантов в направлениях рутс, фолк-рок, кантри, рок-н-ролл и блюз в России. Обладающий поистине энциклопедическими познаниями в музыке, Дмитрий щедро делится своей музыкальной сокровищницей со слушателями, собирая на сцене блестящих музыкантов и добрых друзей — Good OL'Friends. А это значит, что вас ждет упоительный коктейль из самых танцевальных, самых красивых, и самых аутентичных мировых и авторских хитов, приправленный невероятной энергетикой и бесконечным обаянием Дмитрия!